How to book an online visit for your pet: 24-hour vet services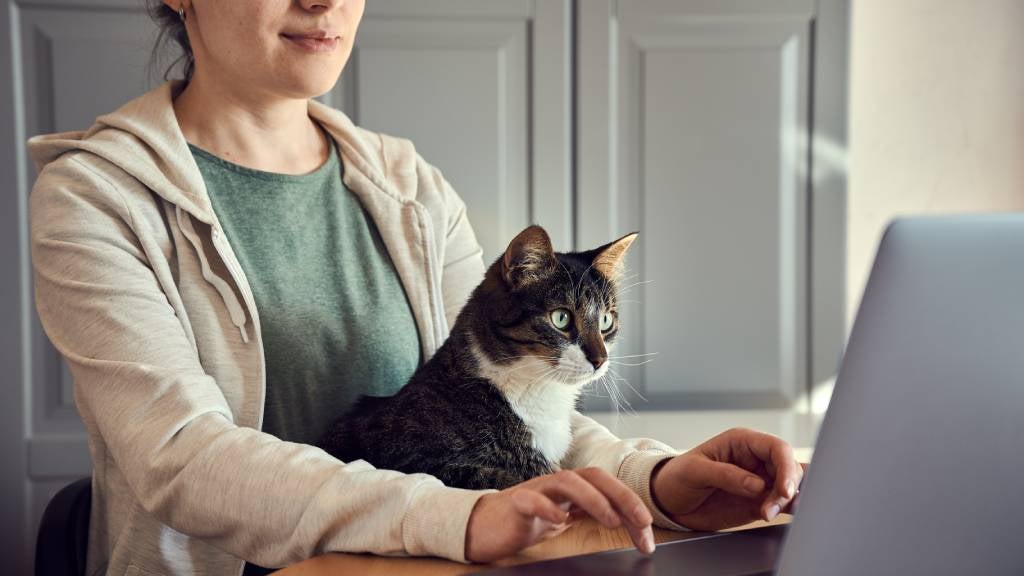 Australia is home to more than 28 million pets in nearly 7 million households – that's over 4 times more animals than humans! Thanks to the internet keeping us more connected than ever, pet owners can now have their animals seen by a vet completely online. If you are thinking about booking an online visit for your four-legged friend, here are five things you need to know. However, please note that online visits are no substitute for in-person assessments, and regular visits to your veterinarian are needed to help maintain your pet's health.
How online vet consultations work
The only difference between an online vet appointment and an in-person consultation is that you aren't physically in the same room as the veterinarian. Instead, you will be communicating through technology like Zoom or Teams on your desktop, or an app like FaceTime on your phone.
In most cases, an online vet appointment is just the first step in the healthcare process, also known as triage. It's a way for a vet to determine your pet's needs and suggest whether or not you should bring them in for a physical examination. While extremely valuable, especially for time-poor pet owners, online vet visits are not a complete substitute for in-person visits, especially if it's an emergency.
How to book an online visit for your pet
If you already have an established relationship with a particular vet, they may offer their own online services where you can book a digital appointment online or through their app. A typical online booking process can look like this:
Visit your preferred online vet's website and start the booking process.
Select the type of animal (e.g. dog).
Choose the service you need, such as a standard consultation or after-hours visit.
Select an available time slot.
Add your contact details, information about your pet and anything else that will help the vet during the consultation.
Lock in the time and the platform for your call. Some providers will offer video consultations and phone call options.
Ensure the online vet is reputable
You should always verify that the online vet service is reputable. Unfortunately, there will always be unscrupulous operators who prey on others online. So make sure you read reviews about the provider to check that they offer a high-quality pet service.
Remember that online vets cannot and should not give specific treatment or dosage advice for your pet over the internet. The online consultation should be treated as triage, and any subsequent medical advice should only be given after an in-person consultation.
Benefits of 24/7 online vet services
If you are still wary about using an online service to get your furry friend checked over, here are some of the most popular reasons to use one:
You can get access to a professional and experienced vet when yours is unavailable.
Once you are booked in, you can receive specific advice about your pet's needs and triage within a matter of minutes.
An online vet will be able to verify whether your pet needs urgent care, as well as suggest the most practical next steps.
You can get peace of mind that your pet is in good hands, rather than worrying about whether you can get them in to see your regular vet in-person.
Follow-ups with online vets
If your pet has recently had surgery or is finishing up a round of treatment, you don't necessarily need to book a physical appointment with your vet. As long as you have your pet's health history readily available, an online vet consultation can take care of the follow-up.
Being an online service, you can email them your pet's details and even send photos of their recovery, such as how a recent surgery is healing. While it shouldn't replace an in-person visit with your vet, it can help you answer any questions you may have about the recovery process.
24-hour peace of mind
With vets in high demand and most pet owners living busy lives themselves, having the option to use a 24-hour online vet service means you can take care of your pet no matter where you are. While it can't replace an in-person vet visit, booking an online vet appointment can help you – and your four-legged friend – get peace of mind and help when you need it most.
When the unexpected happens and your pet suddenly falls ill or gets injured, vet bills can quickly add up. That's why having pet insurance can provide financial protection.
Guardian Insurance offers coverage of up to $12,000 per year for eligible vet bills, helping you to keep your pet in top condition. Request a pet insurance quote today.
21 Feb 2023