Tech that will keep you connected to your pet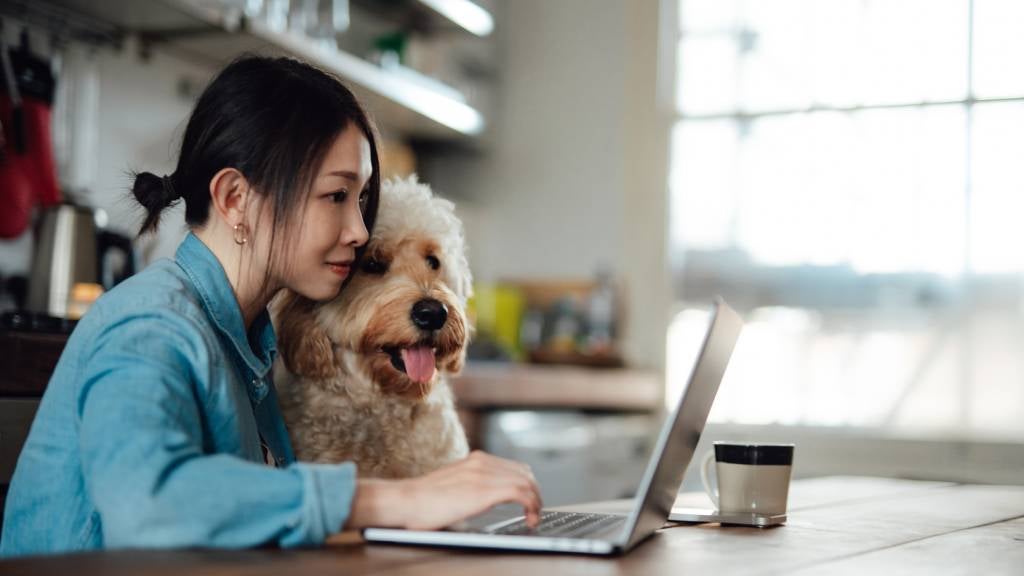 According to 2021 research released by Animal Medicines Australia, 61% of households owned a pet in 2019 before the pandemic. In 2021 that figure had increased to 69%, with a massive surge in dog ownership. Australians are clearly besotted with their furry friends, so with many pet owners returning to the office it's good to know you can stay connected through technology.
What are the top benefits of using technology to connect with your pets?
It can be hard on pets when their owners spend the majority of the day away from home. Especially after an extended period during lockdown when many Australians were working from home, pets may begin to show signs of separation anxiety if you transition from working at home to being back in the office.
But with various pet-focused technologies, you can connect with your pet when you are away from home, monitor their safety and keep them entertained even if you aren't physically with them. Here are just a few of the ways you can use pet technology to stay connected.
Smart pet tags
If your pet manages to escape while you are away from home, you'll want to know you can find them quickly and safely. While microchipping is the norm in Australia, it's no guarantee your pet will be found by a vet or someone that can access the microchip information. With smart pet tags, a unique QR code is linked to your pet's microchip number. That means the person who finds your lost pet can scan the QR code and your contact details will be forwarded straight to them. Some smart pet tags even have NFC functionality so members of the public can just tap the tag with their device to get your pet's information.
Programmable feeders
If you are away for an extended period, you may want to ensure your pet has plenty of food and water available. Programmable feeders can be set up to automatically dispense dry food or water at set times of the day. Some devices even connect to your Wi-Fi so you can dispense your pet a tasty treat in real-time.
Camera-mounted dog harness
Ever wanted to see life through your pet's eyes? With a camera-mounted dog harness, you can stream their daily activities 24/7. There are lots of different brands out there, with GoPro Fetch being one of the most popular. It's an easy way to reduce any separation anxiety you may feel, while also getting a first-person perspective of what they get up to when you're not around.
Automatic ball dispenser
Many pet owners who are away for long periods during the day have valid concerns about whether their furry friends are getting enough mental stimulation. With an automatic ball dispenser, you can train your dog to pick up their favourite ball and drop it into the machine, which will promptly fire it out for them to play fetch – for as long as their heart desires!
Interactive pet camera
Does your pet require lots of activity to keep them stimulated throughout the day? Even if you are away from home, an interactive pet camera allows you to communicate with them in real-time. Set it up in your house or backyard and speak with your pet as you watch them play. Some cameras even come with a laser attachment so you can play games with your pet interactively.
Connection from far away
It's not easy being away from your furry best friend, but with these technologies you can feel like you are always close to them.
You never know what's around the corner, but with pet insurance you can help your pet receive treatment for eligible accidents and illness. Get a quote online today at Guardian Insurance.
25 Oct 2022